Hovis is sulking
Some of you will know that we had a cheeky holiday last week to celebrate Nick turning 60! Although I am not sure Nick was over the moon at reaching that age, but celebrate we did.
Hovis (our dog) was looked after by our wonderful Dog Walker Georgia. He absolutely LOVES Georgia, and her 2 dogs Rudi and Indie so we had no worries about leaving him with her for the week. What we didn't expect, was for him to SULK for 2 days after we returned. He is literally like a child denied screen time, or ice cream!
He finally came round today, and was jumping around with Joy in the morning, when we opened the kitchen door, but goodness me that was a tantrum!
Today, he helped me in the office while I was selecting our scrummy new spring refresh! Orders galore, and I can't wait for them all to arrive. It's so much fun choosing new cards for the site, and I have to restrain myself. I would order way more, if we had enough places to store them!
For now though, we have ordered from a couple of new suppliers, and new designs and ranges from current suppliers.
The Art File - Sara Miller cards
Rosie Made a Thing - New Cards designs and Bookmarks
Grace Gatley Cards - Gorgeous cards from a local textile artist
Belly Button Designs - New ranges
Museum and Galleries - New V&A designs
I am also in the middle of selecting some lovely LetterPress Cards, for something a little different too, but that is work in progress.
My favourite card in the current refresh is this little beauty ...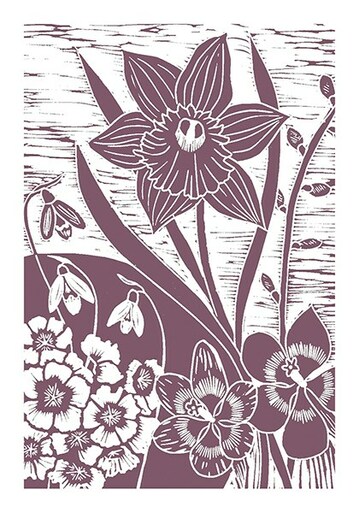 Don't you just love this? I found it while shopping during our recent trip to Edinburgh, and had to have them in our shop! And it's SO much nicer in real life. It's embossed and printed on gorgeous paper. It would look fabulous framed too! So many choices!
So after a fun filled day, I am putting down the computer and am off to feed the teenage dog!
See you all soon!